Pressure washing continually rises in popularity due to the fact that it's a quick and effective way to clean your property. Rather than spending hours scrubbing at built-up dirt around your home's exterior, you can hire a pressure washer to revitalize it and give it new life by blasting dirt away. However, it's important that you know the dos and don'ts of pressure washing.
When done correctly, pressure washing can feel like a godsend. Done poorly, it can damage your property and even land you in the hospital. In order to preserve your safety and protect your property, the following dos and don'ts of pressure washing are a must. We'll start with the don'ts so that you can leave this blog on a positive note.
The Don'ts
#1. Don't DIY Pressure Washing
Can you DIY a pressure wash? Sure.
Should you, though? As with many different projects, just because you can do something does not always mean that you should.
Unless you're a professional pressure washer who noticed that areas of your home need to be refreshed, you don't want to DIY a pressure wash. There are many reasons for this.
Firstly, all those articles talking about how pressure washing is bad and how it can damage your home? This is because in the untrained hands of a DIYer, you could cause some serious damage to your property. People tend to underestimate the force of pressurized water and are then horrified when their pressure washer strips paint from the walls or damages siding.
Secondly, you could seriously hurt yourself or someone else. You may point your pressure washer at another person or a pet, thinking that you're being playful and that it's just like a hose, only to land them in the hospital. If you sustain injuries while pressure washing, you could suffer from compartment syndrome. This is why PPE and being very aware of all the safety concerns surrounding pressure washing is absolutely vital. 
Professionals know how to use pressure washers safely and effectively so that they don't damage your home. They know the measures to take in order to reduce risk of injury, to themselves and others. As such, don't DIY a pressure wash.
#2. Don't Pressure Wash Indoor Spaces
Pressure washers should stay outside, not in. This is because with gas-powered pressure washers, this increases the risk of chemical exposure and carbon monoxide poisoning. With electric-powered pressure washers, this increases the risk of electric shock.
Plus, many indoor surfaces aren't made to withstand a pressure wash. Not to mention the fact that there's your furniture, so many electrical outlets and lights, trying to maneuver a pressure washer around an indoor space… There are many reasons why pressure washers are used for exterior cleaning, not indoor. 
If you want a good deep interior clean and you don't have the time or ability to do so yourself, you would want to hire an indoor cleaning service.
The Dos
#1. Do Hire A Professional
For all the reasons we mentioned in the first don't above, please leave pressure washing to the professionals. Professionals undergo thorough training in order to do the job properly and safely. The last thing you want is to end up injured or with damaged property because you were trying to cut corners.
#2. Do Properly Prepare For The Job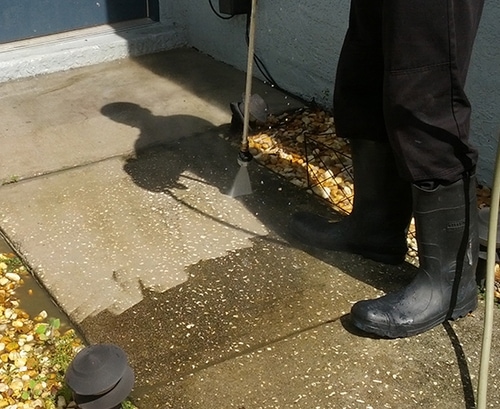 You can ask your pressure washer what they'd like you to do in order to prepare for the job, but generally speaking, you can prepare for a pressure wash by:
Closing all windows and doors.
Keeping children and pets inside.
Covering up plants or taking other measures to protect them – more on this in our previous blog: Protect Your Plants During A Power Wash.
Moving outdoor furniture and potted plants as needed.
Professional Pressure Washing In And Around Boston
Above & Beyond Window Cleaning may have window cleaning in our name, but we also provide pressure washing and soft washing services. Count on us to bring your home back to life with top-of-the-line exterior cleaning services that give it a facelift from your rooftop to your driveway. We know how frustrating it can be to deal with pressure washers who are flakey or don't do the job properly. 
We take pride in going above and beyond on each and every job we do so that you're left thrilled with our service. We provide pressure washing services in and around the Boston area. Contact us today to learn more about our services and how we can help you maintain the beauty of your New England home.